Coffee giant to distribute 50K gift cards for the holidays at unannounced locations nationwide
Starbucks Corp. is giving its customers more than seasons' greetings this year. It will also give out $1 million in free drinks and food.
The coffee chain's baristas will hand out 50,000 $20 gift cards at community events across the U.S. between Dec. 11 and Dec. 23.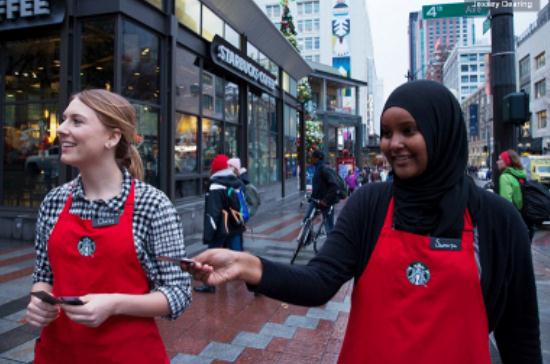 The promotion is called Project Give Good and aims to promote good and giving throughout the community.
"We hope the gift of a Starbucks Card will give customers the opportunity to take a break or catch up with a loved one over coffee," Kris Engskov, executive vice president of U.S. Retail for Starbucks, said in a statement.
The big question for customers is how to get one of the gift cards.
Despite pleadings from Starbucks fans on Twitter, the company will only say that it will be sending baristas with gift cards to gatherings across the country like tree-lightings and caroling.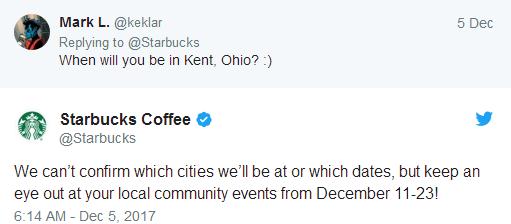 But if there are events customers think could use some free coffee cards, the company encourages them to lobby employees at a Starbucks location this week.
In addition to the $1 million in free drinks, Starbucks is also awarding Gold status in its rewards program for a year to anyone who makes a purchase with the Starbucks app or a registered Starbucks Card.
The company changed its loyalty program structure in 2016, moving from a per-visit model to one that rewarded dollars spent.
Originally, the loyalty program rewarded each visit. That was changed to leverage rewards on the amount spent, which was in part to stop "transaction splitting," or customers who broke up their purchases into multiple transactions to earn more reward points, a practice that slowed throughput.
It hasn't been all been about feel-good promotions for the Seattle-based company of late, though.
Project Give Good may help ease some of the consternation over Starbucks' famous holiday cups by letting customers personalize them with their own coloring and design.
Two years ago the plain red cups were deemed by some to be part of the "War on Christmas" and last year's Unity Cups also generated controversy.
Source: NRN.com